As the Christmas season comes to a close, we naturally start thinking of the New Year. Time to clean out closets, set goal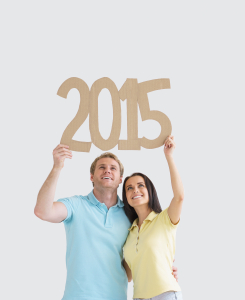 s, and plan for the next year. But, how do you plan when you're in the middle of the adoption process? Should you sign up for that new gym membership or would it be wiser to keep saving for the adoption? Should you buy that baby bouncy seat since it's part of the after-holiday sale or would looking at it everyday be too hard? Should you plan for that summer vacation or will you be caring for a little one by then? When you're in the wait with an adoption, it can seem almost impossible to plan ahead.
"I remember after we submitted our family profile to Love Basket, we weren't sure what to do next. We had worked so hard to submit the paperwork and prepare our profile, and once that was done, we kind of felt like time stopped." says one Love Basket adoptive mother. "With each decision we made (traveling for a wedding, planning a weekend getaway, or starting a new project around the house) we had to consider that our lives could change at any moment with just one phone call."
So, how do you go about focusing on the next thing or thinking about the future when there's so much uncertainty that lies ahead? As one adoptive father said, "You have to just keep putting one foot in front of the other. If you get stuck in the wait, you'll miss out on what's right in front of you."
Here's a few things you can do to keep moving forward.
Keeping busy can help to take your mind off of the waiting. If you like to golf, go golfing. If you like to knit, do it. Being productive will help you feel like you're doing something even when you feel like nothing is happening in the wait.
Planning ahead for when the baby comes is smart too. For example, consider how your budget will change once you add food, daycare, and diapers to your expenses.
Make a list of things you'd like to do as a couple/family before the new baby arrives – and then do them. If you're on vacation and get "the call," you'll figure out very quickly how to get from where you are to where you need to be – and it will be a fun story to share with your little one!
Continue to dream. Just because you're waiting on your dream of adopting, doesn't mean you have to stop dreaming.  Talk about your dreams for your child and your family. You don't have to wait until they are in your arms to know what discipline strategy you as a couple agree (or don't agree) on!
Most importantly, trust that God knows the plans he has for you. It is in the wait that he often refines and shapes us for what is to come. "For I know the plans I have for you declares the Lord. Plans to prosper you, and not to harm you, plans to give you a hope and future." Jeremiah 29:11